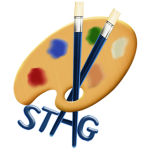 South Tipperary Art Group
Our aim is to promote Art in its broadest sense and the love of Art, Craft and Creativity in the Community and to facilitate Art/ Craft courses for young and old, advantaged and disadvantaged in Clonmel and South Tipperary. We hope that you enjoy your visit, please be sure to visit the Gallery section, where you will see examples of our members works, with prices etc.
March 2020
Hi all, in the interest of keeping the Corona Virus from spreading in the community and the fact that schools and the Arts Centre etc., in Clonmel are now closed, we have made the decision to cancel all Junior and Adult Art Sessions until 29th March at the very least.
We will be in contact in due course when we get the go-ahead to reopen from the HSE.
Please pass this info on as I don't have email addresses or Mobile numbers for all our members.
Many thanks and stay safe and healthy.
Maureen
September 2019
Adult STAG has just reopened on Tuesday night in the Art Room, Infant School, Ss. Peter and Paul's Primary School Kickham St., Clonmel. For those  who wish to attend on Wednesday mornings,  STAG will reopen on Wed 2nd October  in the South Tipperary Arts Centre, Nelson St., Clonmel  from  10.30 am to 12.30.
New members, with a basic knowledge of Drawing/Painting are welcome at either or both of these sessions.
Many Thanks to Julian, Manager of the Showgrounds Shopping Centre, Waterford Road, who has facilitated STAG for a display of Artwork in Unit 6, much appreciated!
Congrats. to Dolores, Kate and Maureen who sold their paintings at the en plein air event during the Twin Trees Festival, Ballinakill Co. Laois.  A great weekend was had by the 12 STAG members who came to paint with Tony Robinson, Artist,  last weekend in Denis Burke Park and out at Inislounaght, Marlfied.
Junior STAG, Primary Group (9 years to 6th Class)  and Seniors (1st year to Leaving Cert)  started back last Saturday  with great drawing from both groups. Only a handful of places now available in both groups.  Contact the Organiser  at 086 8096823 for any details required.
Maureen Purcell, Organiser, STAG,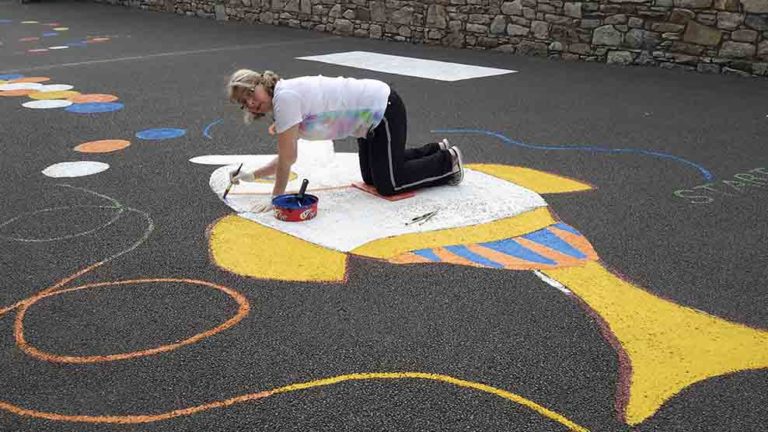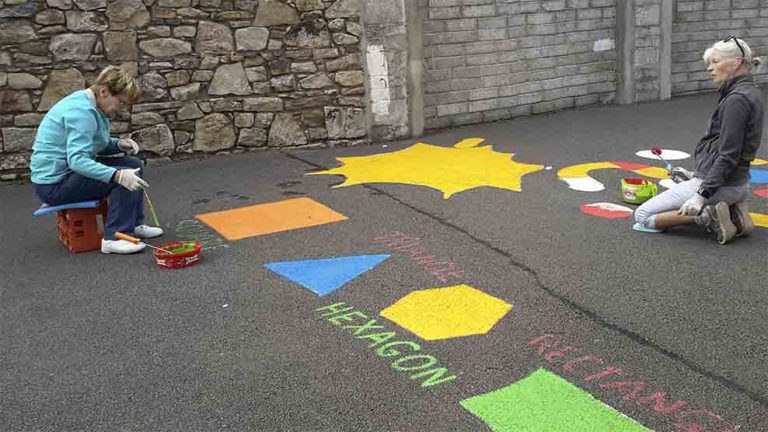 Stag adults painting the playground at Ss. Peter and Paul s Primary School, Clonmel
July 2019
Our Annual Exhibition will be held again this year. Clonmel Library from 3 Jul to 13 Jul 2019.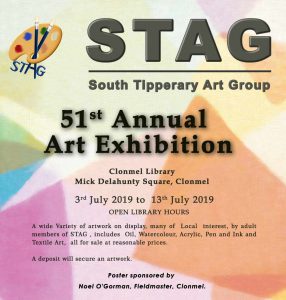 June 2019
There will be NO Art on Wednesday mornings in the Arts Centre until October. Pass all info on Please as I don't have everyone's email addresses.
May 2019
Junior STAG, Primary and Senior Groups have been very busy in the past few weeks completing their Printing Course with Printer, Aoife Barrett, Galway as well as doing their appliqué and pottery courses with STAG Tutors Bobby and Lesley at the same time. Great results were achieved by all in each of the courses. We would like to acknowledge the financial support, through the Arts Grant from Tipperary Co. Council's Arts Office, that facilitated Junior STAG's 60 members from 9 years to Leaving Certs. to complete the Printing Course with Aoife Barrett. Very much appreciated indeed!
The students have just 4 more weeks to their summer holidays so we would ask the senior group( who are now on holidays) to attend right up to and including the 22ndJune as their Batik must be completed and they will be needed to help paint the infant school playground in Ss. Peter and Paul's Primary School also during the next few weeks.
STAG Adults were delighted to present Sandra from Sanie's Trust and Agnes from Clonmel Daffodil Day Fund( Cancer Night nurses) a cheque each for €1,100, being the proceeds from the very successful Charity Concert that STAG ran with several great choirs on Saturday May 4th in Old St. Mary's Church, Clonmel. The Adult Art Group are now busy completing artworks for their 51st Annual Art Exhibition in Clonmel Library which will be officially launched on Tuesday 2nd July. Members are asked to attend on either Tuesday nights or Wednesday mornings for all the info re the Exhibition and the proposed en plein air outing to Co. Laois.